Key Dates
| | |
| --- | --- |
| Aug 27 – Sept 1, 2023 | Conference Duration  |
| February 2023 | Abstracts Submissions Open |
| TBA | Registrations open |
| TBA | Earlybird registration closes |
| August 27th 2023 | Registration and Welcome Reception, 4pm |
| August 28th 2023 | Conference begins |
Plenary Speakers
Professor Phil Power, University of Davis 
Professor Stefanie Dehnen, Karlsruhe Institute of Technology 
Professor Masaichi Saito, Saitama University  
Professor Eric Rivard, University of Alberta 
Professor Jose Goicoechea, University of Oxford / University of Indiana 
Speakers Include
Moumita Majumdar
Thomas Müller
Terrance Hadlington
Andre Schäfer
Anne Staubitz
Norihiro Tokitoh
Frank Uhlig
Cameron Jones
Jamie Hicks
Kim Baines
Sakya Sen
Shigeyoshi Inoue
Local Organising Committee
Robin Fulton,
Victoria University of Wellington, Chair

Mat Anker,
Victoria University of Wellington, Treasurer

Jamie Hicks,
Australian National University

Cameron Jones,
Monash University
Te Herenga Waka Victoria University of Wellington
Ruthorford House
Victoria University of Wellington (Māori name, Te Herenga Waka, 'The Mooring Place of Canoes') was founded in 1897 and is located within New Zealand's capital city. The University has three main campuses in Wellington and a satellite campus in Auckland, and it hosts over 21,000 students. The university has extensive programmes in teaching and research and maintains strong linkages to local artistic and music industries.
Victoria University of Wellington is internationally recognised for its world-leading programmes in the Humanities and Performing Arts. The University also maintains numerous international partnerships across the Asia Pacific region. As a large, research-leading university and having hosted numerous large international conferences, Victoria University of Wellington is well placed to host the ICCOC-GTL17 in partnership with Wellington city organizations.
Click here for a guided tour.
Stay in the heart of the city
Wellington is an incredibly compact city so no matter where you choose to stay, you'll find that nothing is too far away, but these hotels will put you right in the heart of inner-city Wellington close to venues and dining experiences.
Whether you're after hotel accommodation with a harbour view, a cheap and cheerful backpackers in the CBD, or simply a sweet deal, you'll feel at home in Wellington.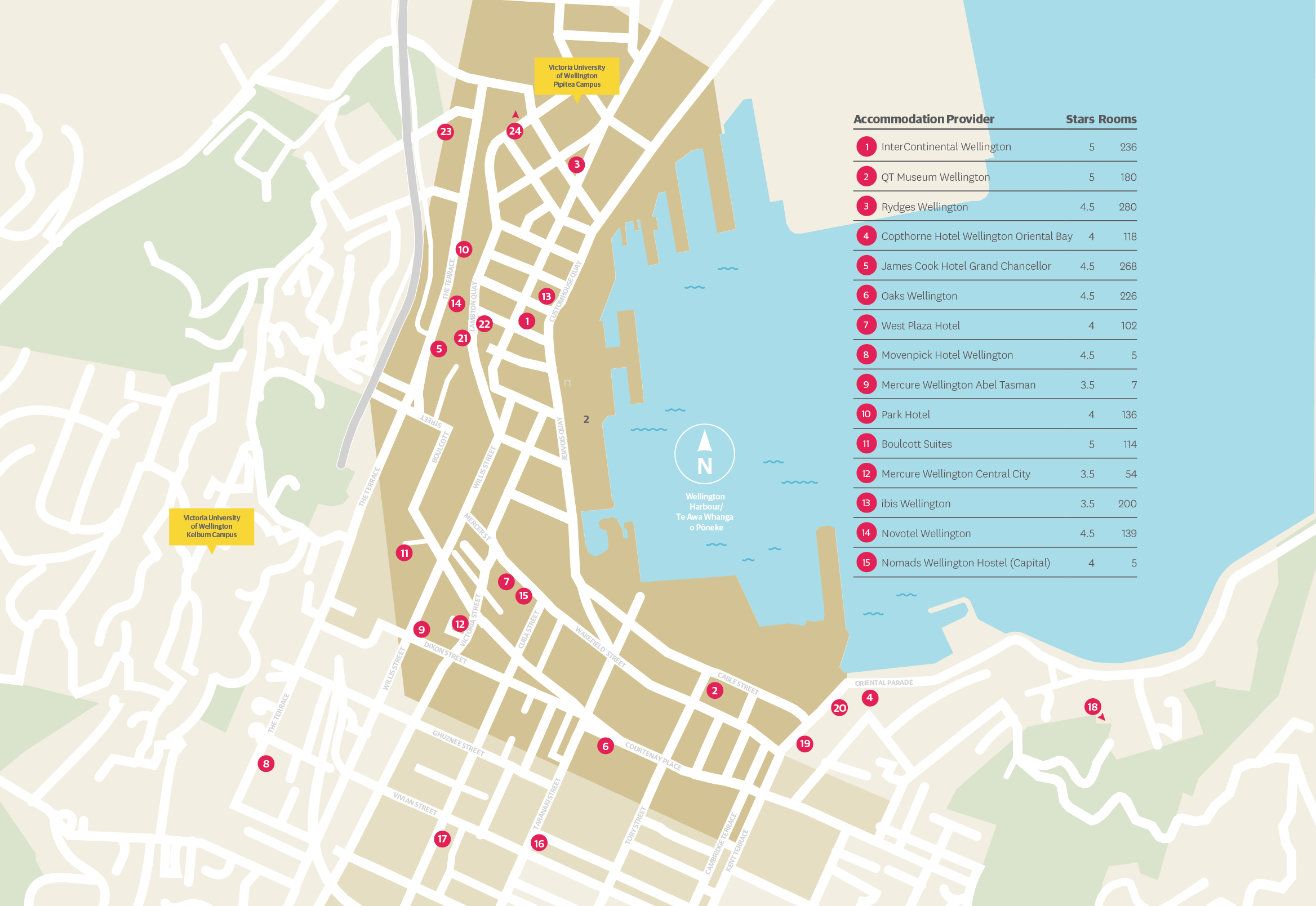 Anti-Harassment Policy
ICCOC-GTL17 is dedicated to a harassment-free conference experience for everyone. Our anti-harassment policy will be posted here.
Previous Meetings
| | | | |
| --- | --- | --- | --- |
| ICCOC-GTL-1 | 1974 | Marseille (France) | Jean Claude Maire |
| ICCOC-GTL-2 | 1977 | Nottingham (UK) | Frank Glockling |
| ICCOC-GTL-3 | 1980 | Dortmund (Germany) | Wilhelm P. Neumann |
| ICCOC-GTL-4 | 1983 | Montreal (Canada) | Mario Onyszchuk |
| ICCOC-GTL-5 | 1986 | Padova (Italy) | Giuseppe Tagliavani |
| ICCOC-GTL-6 | 1989 | Brussels (Belgium) | Marcel Gielen |
| ICCOC-GTL-7 | 1992 | Riga (Latvia) | Edmunds Lukevics |
| ICCOC-GTL-8 | 1995 | Sendai (Japan) | Hideki Sakurai |
| ICCOC-GTL-9 | 1998 | Melbourne (Australia) | Dainis Dakternieks |
| ICCOC-GTL-10 | 2001 | Bordeaux (France) | Bernard Jousseaume |
| ICCOC-GTL-11 | 2004 | Santa Fe (USA) | Keith Pannell |
| ICCOC-GTL-12 | 2007 | Galway (Ireland) | Patrick McArdle |
| ICCOC-GTL-13 | 2010 | Graz (Austria) | Frank Uhlig |
| ICCOC-GTL-14 | 2013 | Baddeck (Canada) | Kim Baines |
| ICCOC-GTL-15 | 2016 | Pardubice (Czech) | Aleš Růžička |
| ICCOC-GTL-16 | 2019 | Saitama (Japan) | Masaichi Saito |